Launching Arc Advance Plus
Accessing capital remains the number one challenge that all startups face. To make matters worse, rising interest rates and market volatility are both exerting an enormous amount of pressure on the already limited supply of growth capital.
The Federal Reserve's recent 50 basis points rate hike seems to reinforce the generally accepted sentiment that "it is going to get worse before it gets better".
Unfortunately for the startup community, this means tougher times ahead.
In response to this, we're launching Arc Advance Plus - financial innovation that's changing the way startups get access to capital.
Arc believes premium software startups deserve a premium non-dilutive funding solution. Now, Arc Treasury banking customers have exclusive access to Advance Plus. Advance Plus is a new form of hybrid financing that bridges the gap between traditional venture debt and revenue-based financing. We continue to believe in equipping our Treasury customers with the right tools to navigate the tough road ahead, and are offering top-decile startups better access to growth capital on more flexible terms.
Between the lengthier repayment schedule and no payments required for the first 6 months, startups are empowered to invest in longer term key initiatives that will accelerate their growth while preserving equity capital.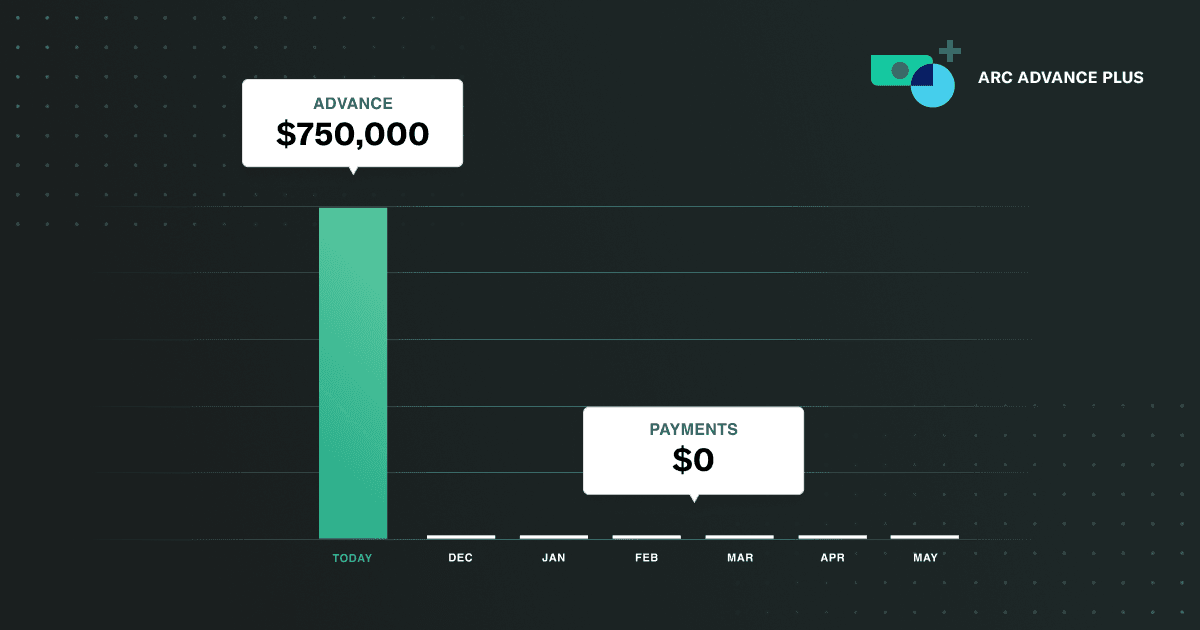 Arc Advance Plus is our response to today's market volatility  
Traditionally, startups had two forms of financing that they could turn to when looking for outside capital; venture debt or venture capital (equity financing) – and both are intimately linked. When markets were more stable and capital was abundant, both forms of capital were infinitely more accessible.
With venture capital having largely dried up over the past few quarters, most companies have had to look at alternative ways to secure capital.
Venture debt meanwhile is based on the amount of equity a company has recently raised – generally 20-50% of the most recent round. Those who can secure this type of option benefit from long repayment terms and competitive rates, but companies that haven't closed a recent round are effectively shut out. Even those who do qualify are subject to the intense covenants and expensive warrants that accompany this type of financing.
Venture lenders use equity dollars as a source of validation and the primary yardstick for underwriting a loan. Venture debt isn't a replacement for equity capital, it's complementary.
Translation: More and more founders are shut out of equity markets, and most won't be able to turn to Venture Debt to keep their businesses going. Arc Advance Plus offers a faster, more flexible alternative to Venture Debt, not underpinned by a recent equity round, and better tailored for the volatile market conditions ahead.
Ad spend, hiring, and product development can all take a while to generate returns, making fast repayment options an ill suited tool – Advance Plus solves that problem. Startups using Arc's Treasury product can opt into a six-month grace period during which no principal repayments are required through Advance Plus.
Who is Arc Advance Plus financing for? 
Arc Advance Plus is available to qualified businesses who have been admitted to Arc's Treasury platform. It is designed for recurring revenue companies with strong business fundamentals. Startups must have $250K+ in annual recurring revenue and 18+ months of runway or 6+ months of positive cash flow.
Companies that don't meet this threshold may still qualify for the traditional Arc Advance.
The future is bright, we're here to help
The fundraising market today may be turbulent, but I couldn't be more optimistic about the long term outlook for founders and companies who successfully navigate the next few quarters. The startups that rose out of the '08 financial crisis proved that tomorrow's winners are forged in the depths of recessions.
Arc is committed to your growth and we're incredibly proud to add another innovative product to help founders navigate these markets and find enduring success.
If you'd like to learn more about Arc Advance Plus, you can do so here.
Yours in the journey, 
Don Muir