Premium Funding for Premium Startups
Meet Alex.
‍Alex is the founder of a VC-backed B2B SaaS startup with $4 million ARR. She found PMF and will conservatively double ARR in 2022 based on backlog alone. With 6 months of runway, the hawks are circling to take down Alex's Series B. Why not just raise $30+ million today? It's tempting – Alex wants to continue to invest heavily in R&D and customer acquisition. It's her ambition to win the market next year.
‍In the past, founders like Alex were left with two options: they could pump the brakes on growth to extend their runway or raise fresh equity capital and put the pedal to the floor (debt is too slow, rigid & burdensome). So founders were forced to choose between accelerating growth and diluting existing employees, investors, and founders. An impossible choice, but one that founders were led to believe they must make for their company to succeed.
Arc was founded on the idea that premium startups deserve a premium funding alternative.
In most cases, a modest amount of capital is all you need to achieve escape velocity. You should be able to leverage your company's success to borrow the funds you need when you need them without sacrificing ownership of your business.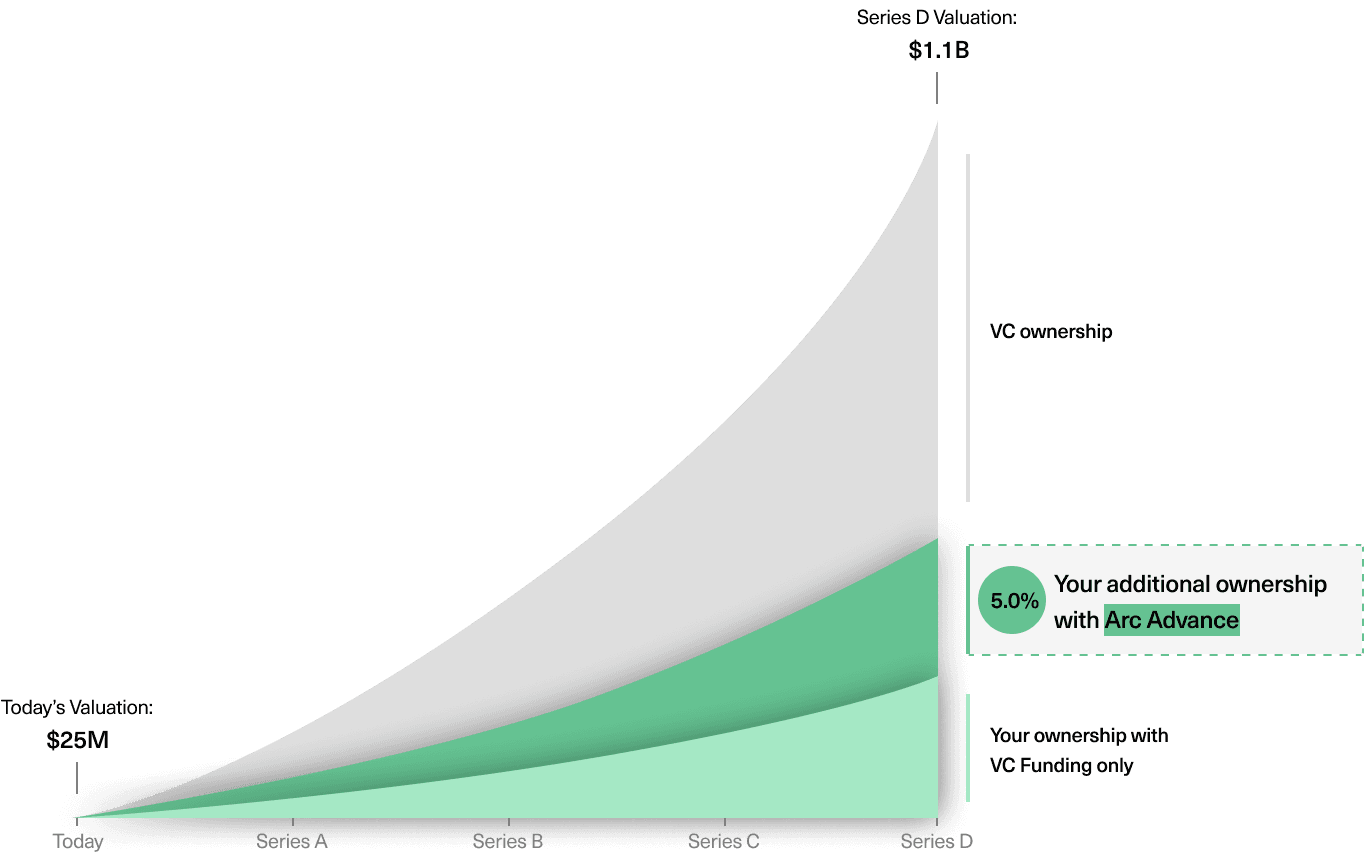 Alex was approved for $1 million in Arc Advance funding each month throughout 2022, fully funding Alex's monthly net cash burn. Arc will programmatically convert Alex's future revenue into upfront capital to fuel her growth. Without dilution. Without debt.
In partnership with Arc, Alex will focus on growth and delay her equity raise by 6 months or more. She will fundraise from a position of strength with an additional 20 customers booked and 50% more ARR, implying a 50% higher valuation. Going forward, Alex will complement her equity rounds with Arc Advance financing, saving 5.0% in dilution by her Series D.
Alex joined Arc. Will you? Join Arc today.